AMI QUALITY POLICY
Aisin Manufacturing, Illinois is committed to the advancement of society through the manufacturing of products that provide value to its customers and benefits to society and nature. In support of this mission, Aisin Manufacturing commits itself to:
Meeting and where possible exceeding customer requirements.
Proactive quality improvement that benefits the customer, Aisin Manufacturing, and Aisin stakeholders.
Building strong customer relations through quick response to customer issues, concerns and requests.
Respect for each Aisin Team Member through the creation of a strong team activity, maintenance of a safe work environment, involvement in continual improvement activities, and the providing of the skills, training and resources they need.
Maintenance of strong cost controls and inventory management through practices that maximize the value provided for our customers.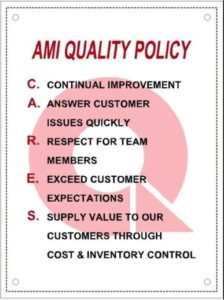 Continual Improvement
Answer Customer Issues Quickly
Respect for Team Members
Exceed Customer Expectations
Supply Value to our Customers through Cost and Inventory Control