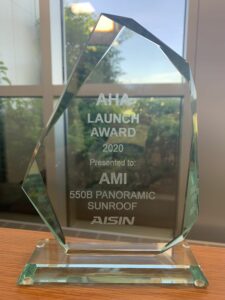 AMI was presented with the AHA Launch Award for the implementation of the 550B Panoramic Sunroof. The AMI sunroof department began testing of the sunroof in November 2019 and began production in January 2020. Today, AMI produces roughly 250 550B panoramic sunroofs a day between 2 shifts. These sunroofs are installed on the Toyota Highlander.
This is a monumental accomplishment for AMI as it's the first AHA Launch Award we've received. Several departments had a hand in the development of this product. From engineering, maintenance, manufacturing, and logistics; This was a great effort given by all departments.
Thank you and congratulations to all our team members for their hard work.