On February 14th, Aisin Manufacturing hosted a St. Jude's Baking Contest. The event was a huge success with over 50 baking contest entries. Submissions varied from cakes, cupcakes, cheesecakes, cookies, and brownies. After tasting over 50 entries, the judges made the difficult decision of awarding 3 team members with 1st, 2nd, and 3rd place.
1st Place: Taylor Lowry (Pecan Praline Cheesecake)
2nd Place: Lisa Maynard (Sugar Free Black Forest Cake)
3rd Place: Kara Williams (Ice Box Cake)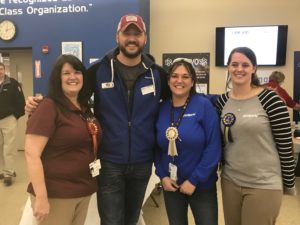 L to R: Lisa Maynard (2nd), Kent Zimmer (Announcer), Kara Williams (3rd), & Taylor Lowry (1st)
A St. Jude's Bake Sale was also hosted with team members throughout the plant contributing goods for sale. With the combination of the baking contest and bake sale, AMI was able to raise $2,042.31 to be donated to St. Jude Children's Research Hospital.
Throughout the month of March, various St. Jude fundraisers will occur at AMI with all proceeds being donated to St. Jude's on March 29th at the New Country Z100 Radiothon .